STRUCTURAL CORRECTION
We actually focus on structural correction of the spine. This is THE primary emphasis of our chiropractic care — your spine is your body's central information highway. Proper spinal alignment aids in optimal nerve supply. This is important to maintaining optimal nervous system function and unlocks the body's natural potential for optimal health, faster healing, and improved physical ability.
---
CENTRAL NERVOUS SYSTEM AND YOUR HEALTH
Your spine is the lifeline for all of your body's functions. The spine is a key element to healing as it protects your central nervous system — the system that connects your entire body, helping it to communicate and react to daily stressors and illnesses. Improper spinal alignment is common and can be caused by both physical and emotional challenges. Spinal misalignment diminishes nerve supply and weakens the body, increasing the risk of pain, illness, and reduced life-longevity. Aligning your spine and correcting abnormalities caused by stress or injury optimizes your nerve supply and clears pathways to enhance healing naturally. By optimizing nerve supply through structural correction, the body's systems can function without interference.
---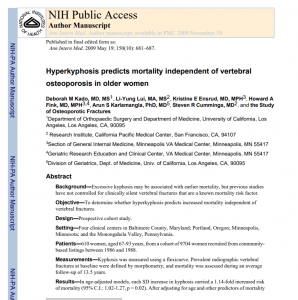 WHAT ARE THE MAIN SIDE EFFECTS OF SPINAL MISALIGNMENT?
The two main side effects of spinal misalignments are:
NERVOUS SYSTEM INTERFERENCE
SPINAL DECAY AND SOFT TISSUE DEGENERATION
There is more research than ever talking about the importance of proper spinal alignment. Improper spinal alignment can result in decay of the spinal cord, disc herniation, disc decay, compression fractures, and early death. One of the most important research papers in the last decade was from a medical doctor out of UCLA that showed an increase in mortality of over 800% in individuals with the most severe spinal misalignments.
---
HOW DO WE FIX STRUCTURAL SHIFTS?
Structural Correction of the spine doesn't happen by accident
1) DETERMINE YOUR SPINE'S ALIGNMENT
To figure out your specific spine's alignment, one must take specific x-rays to determine if your spine is properly aligned or not. In addition, one must also perform an orthopedic, neurologic, and chiropractic exam. This will help us determine what must be done to not only get you out of pain but KEEP you out of pain by removing the interference that is keeping you from being healthy.
2) DETERMINE YOUR SPECIFIC TREATMENT
Discovering the fastest way to correct your spine's particular structural shift is our top priority. We have multiple tools at our disposal that will allow us try everything from neuromuscular weighting, spinal decompression, spinal traction, or any of our other options, we'll find th best way we can get you better.
3) AT HOME CORRECTIVE TREATMENTS
Research has shown time and time again that individuals that take their health seriously don't just rely on their doctor to get them better. Those that get the best results are those that truly invest in their own health to getting better. There's a saying that it's easier to stay healthy than to get healthy and that is 100% correct. It's easier to stay health than to get healthy. So, you'll also be given ways to ensure that you increase the rate at which you get better at home and not just here in the clinic.